Wrap-Around Labelling Systems
Automatic wrap-around label applicators for self-adhesive labels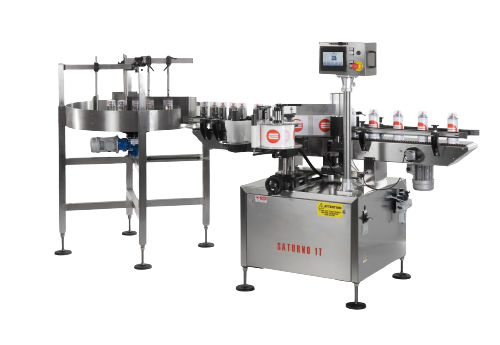 Compact Linear Label Applicator
| | |
| --- | --- |
| Technical information |   |
| • Label types | Full or partial wrap |
| • Machine dimensions | 1089 x 1956mm |
| • Variable speed (per min) | 0-20m |
| • Max. label widths | 140mm, 190mm |
| • Min. label widths | 10mm |
| • Max. label roll diameter | 300mm |
| • Product dimensions (diameter) | 30-150mm |
| • Memory | Up to 50 recipes |
| • Power supply | 220 or 110v 50/60Hz |
| • Optional items | Inkjet small character printer, ultrasonic label sensor, pulse encoder, product spacing system, infeed and outfeed transfer plates, infeed and outfeed rotary tables, label level low warning, small character print and apply and castors |
Compact Rotary Label Applicator
| | |
| --- | --- |
| Technical information | |
| • Label types | Full or partial wrap or front and back |
| • Machine dimensions | 1089 x 1956mm |
| • Variable speed (per min) | 0-20m |
| • Max. label widths | 140mm, 190mm |
| • Min. label widths | 10mm |
| • Max. label roll diameter | 300mm |
| • Product dimensions (diameter) | 30-150mm |
| • Memory | Up to 50 recipes |
| • Power supply | 220 or 110v 50/60Hz |
| • Optional items | Inkjet small character printer, ultrasonic label sensor, pulse encoder, product spacing system, infeed and outfeed transfer plates, infeed and outfeed rotary tables, label level low warning, small character print and apply and castors |
Synchro Linear Label Applicator
| | |
| --- | --- |
| Technical information |   |
| • Label types | Full or partial wrap |
| • Machine dimensions | 1140 x 1956mm |
| • Variable speed (per min) | 0-30m |
| • Max. label widths | 140mm, 190mm, 230mm |
| • Min. label widths | 10mm |
| • Max. label roll diameter | 300mm |
| • Product dimensions (diameter) | 30-150mm |
| • Memory | Up to 50 recipes |
| • Power supply | 220 or 110v 50/60Hz |
| • Optional items | Inkjet small character printer, thermal transfer printer, ultrasonic label sensor, pulse encoder, product spacing system, infeed and outfeed transfer plates, infeed and outfeed rotary tables, label level low warning, small character print and apply and castors |
Synchro Rotary Label Applicator
| | |
| --- | --- |
| Technical information | |
| • Label types | Full or partial wrap or front and back |
| • Machine dimensions | 1140 x 1956mm |
| • Variable speed (per min) | 0-20m |
| • Max. label widths | 140mm, 190mm, 230mm |
| • Min. label widths | 10mm |
| • Max. label roll diameter | 300mm |
| • Product dimensions (diameter) | 30-150mm |
| • Memory | Up to 50 recipes |
| • Power supply | 220 or 110v 50/60Hz |
| • Optional items | Inkjet small character printer, thermal transfer printer, ultrasonic label sensor, pulse encoder, product spacing system, infeed and outfeed transfer plates, infeed and outfeed rotary tables, label level low warning, small character print and apply and castors |
Supported by our professional team of service engineers, our label applicators come in a variety of shapes and sizes to suit all businesses and applications.
Rotary or linear labellers, available in Compact or full Synchro models. All of which will operate standalone or integrate with your production lines.
Think this could be the solution for you? Either give us a call or complete the Get in Touch form and one of our sales team will be able to provide honest and transparent advice.